X-INfERNO.com has enjoyed a 12+ year journey through some of the most interesting times in the history of the web. It's served different purposes along the way – software and game host, online social hub,  and project blog among other things. It's been a great run but it's time for a new platform and a new brand and so I'd like to introduce to you, Toemat Labs at http://toemat.com.
Toemat Labs is the spiritual successor to X-INfERNO.com and will continue on the path of documenting projects and experiments with an emphasis on useful, fun, and high quality content. I'd love for you to take a look at a couple of the first posts and let me know what you think, for example the Immersion RC Vortex Teardown or the Arduino Bubble Blaster!
Legacy X-INfERNO
I launched X-INfERNO.com sometime around 2002, at the time I was just about midway through high school. It was my first domain and my first 'serious' website (my very first piece of the web was at Angelfire around the year 2000, but sadly it's lost to history).
I didn't have a credit card, or really any money to speak of, but I was able to register x-inferno.com through a website called NameZero, where domains could be registered for free as long as you agreed to allow them to inject a big advertisement banner. Of course the first thing I did was remove the banner.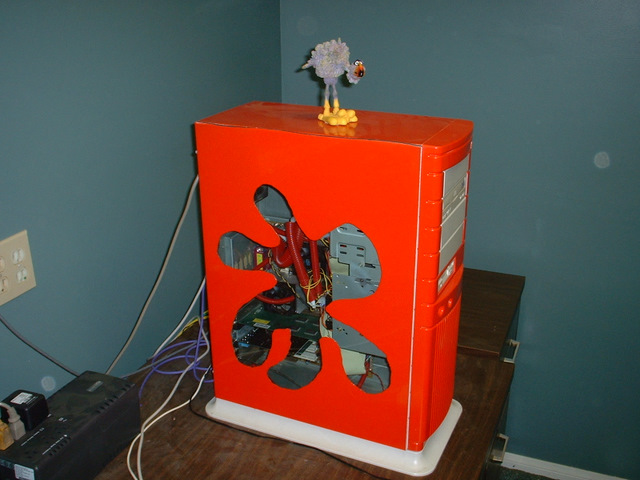 The first machine running X-INfERNO.com was a dual CPU 1.0GHz monster we called the Orange Box. The case was a school district throw-away full tower which I painted and cut a window into. It was connected to the world wide web by a fantastically unreliable 20kB/s DSL line. It wasn't much but it did the job and ran 24/7 without issue for a number of years.
Originally the site was made using FrontPage (yuck), then it was Joomla (ugh), and finally WordPress.
The highlight, for me, was the X-INfERNO.com forum. An online hub for a group of real life friends to communicate and share memories. It collected thousands of posts over the years and a lot of great times are documented there. As time has moved on other services online have taken it's place, but the forum will live on as a window into the lives of a bunch of teenage millennials trying to find their place in a world of constantly changing technology.
Thanks for reading. Here's to a new chapter at Toemat.com 🍷